Broward County Monthly New Listings Rise to Highest Point in Five Months
by David Garcia, February 21, 2023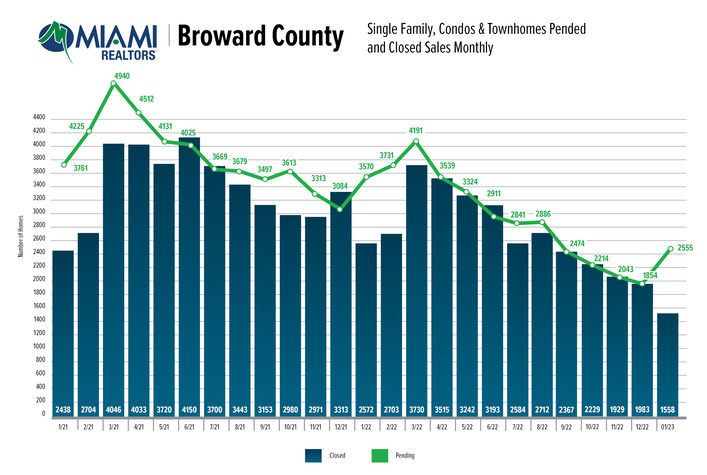 Broward County total pending sales rose 37.8% month over month in January 2023, from 1,844 to 2,541. It is the first month-over-month rise of pending sales since August 2022.
MIAMI — Broward County total new listings rose to its highest point in five months, a welcome sight for the high-demand, low-supply market, according to January 2023 statistics released today by the MIAMI Association of Realtors (MIAMI) and the Multiple Listing Service (MLS) system.
"Much needed supply is coming to our Broward and Fort Lauderdale real estate market just as showing appointments and pending sales are increasing month over month," Broward-MIAMI President Alfredo Pujol said. "Broward's high percentage of cash buyers plus migration from U.S. individuals and companies continues to fuel demand."
The 3,257 new listings in January 2023 is the most in Broward County since August 2022. Overall, Broward total new listings decreased 6.6% year-over-year in January 2023, from 3,486 to 3,257.
Most South Florida Showing Appointments in a Month Since May 2022
Two leading indicators jumped in January 2023: showing appointments and pending sales.
Showing appointments in the Southeast Florida MLS, which is owned by MIAMI REALTORS®, jumped 54.5% month over month to 233,144 showings. It marks the most showings in a month since May 2022 (245,225 appointments).
Broward County total pending sales rose 37.8% month over month in January 2023, from 1,844 to 2,541. It is the first month-over-month rise of pending sales since August 2022.
Homebuyers jumped off the sidelines in January as mortgage rates decreased 1 percent point from the October high of 7.16%, but now in February rates have risen again. According to Freddie Mac, the average commitment rate for a 30-year, conventional, fixed-rate mortgage averaged 6.32% as of February 16. That's up from 6.12% from the previous week and 3.92% one year ago.
"While homebuyers continue to be challenged by rising mortgage rates, it's important to note that South Florida is still in a seller's market," MIAMI REALTORS® Chief Economist Gay Cororaton said. "Homes are in short supply as the area continues to see stronger job growth than nationally and sustained migration, especially from retirees and relocating workers and companies. Homebuyers should take into consideration that home prices are more likely to keep rising than to decline given the shortage of homes on the market and the decline in new home construction."
Broward January 2023 total sales decreased 39.4% year-over-year, from 2,559 to 1,552 because it's in comparison to a historic January 2022 and the current market has low inventory in specific price points and higher rates. Expanding the scope to analyze all Januarys shows the January 2023 total is in line with pre-pandemic numbers.
Single-family home sales decreased 39.2% year-over-year, from 1,113 in January 2022 to 677 in January 2023 because of its comparison to a historic January 2022. Broward existing condo sales decreased 39.5% year-over-year, from 1,446 in January 2022 to 875 in January 2023, due to lack of inventory and rising mortgage rates.
South Florida's Market Fundamentals Lead the Nation
Price Appreciation
The Miami MSA is 1 of only 2 U.S. markets forecasted to see price appreciation in 2023 according to Goldman Sachs forecast.
Migration Gains
South Florida ranked No. 1 in the U.S. for most inbound population gains between 2019 and 2022, a 56.2% increase via United States Postal Service change-of-address data.
South Florida out-of-state driver license exchanges remain up double digits for relocating New Yorkers, Californians, New Jerseyans and more, according to Florida Department of Highway Safety and Motor Vehicles (FLHSMV) data.
Florida is fastest-growing state for the first time since 1957 (1,142 net new residents per day in 2022 per U.S. Census)
Cash Buyers
Broward's percentage of cash buyers (44.1%) is significantly higher than the national average (29%).
Wealth Influx
Broward County and Miami-Dade County ranked No. 1 and No. 2, respectively, in the U.S. for $10M+ sales volume on basis of percentage change from 2019 vs 2022 via Compass
Global companies continue relocating to South Florida, such as Citadel, a multinational hedge fund that manages $57 billion in assets and is developing a $1 billion Miami office tower with plans to have 1,500 employees in 10 years.
Job Growth
Miami ranked in top-20 in the U.S. for most tech job postings via CompTIA Tech Jobs Report. Tech industry offers some of the highest-paying jobs.
About 60 companies expanded or relocated to Miami-Dade County in 2021-22, creating 8,000 new direct and indirect high-value jobs with average salary of $97,000, according to Beacon Council.
South Florida has one of the strongest job markets in the country, with 2% unemployment– lower than the national figure.
Teleworking and Coworking
Nicknamed the Coworking Capital of the World, Miami saw a 143% increase in demand for flexible office space in 2022 compared to before the pandemic via The Instant Group.
Expansion of remote work benefits Miami because if you can work wherever why wouldn't you want to live in sunny Miami?
Global Buyers
South Florida is the No. 1 U.S. market for global buyers. Foreign homebuyers purchased $6.8 billion of South Florida residential properties in 2022, up 34% from $5.1 billion in 2021, according to our 2022 MIAMI REALTORS® Global Study.
South Florida Home Prices, Household Income Rise with Wealth Migration
Broward County single-family home median prices increased 8% year-over-year in January 2023, increasing from $500,000 to $540,000. Existing condo median prices increased 12.5% year-over-year, from $240,000 to $269,900.
While local median prices have increased so have local household incomes. Miami and West Palm Beach rank in the top-10 in the U.S. in median homebuyer growth (2019 vs 2021). Miami median homebuyer income grew 16.9% to $104,000 in 2021, and West Palm Beach median homebuyer income is $110,000 via Redfin report.
Home prices are determined by supply and demand. Lower supply and higher demand create higher prices. Inventory for Broward single-family homes (3 months) and condos (3.1 months) are low. Also, one of the supports for home prices is rents and rents are up.
Broward Active Listings Still Near Historical Lows; More Supply Needed
The average year-end Broward annual active inventory since 2008 is 14,547 and active listings at the end of 2022 totaled 7,821. Broward active listings are down 36.67% versus pre-pandemic (year-end 2022 vs. year-end 2019).
Total active listings at the end of January 2023 increased 76% year-over-year, from 4,513 to 7,945.
Inventory of single-family homes increased 110.6% year-over-year in January 2023 from 1,640 active listings last year to 3,454 last month. Condominium inventory increased 56.3% year-over-year to 4,491 from 2,873 listings during the same period in 2022.
New listings of Broward single-family homes decreased 13.8% to 1,289 from 1,495 year-over-year. New listings of condominiums decreased 1.2%, from 1,991 to 1,968 year-over-year.
Months' supply of inventory for single-family homes increased 172.7% to 3 months year-over-year, which indicates a seller's market. Inventory for existing condominiums increased 93.8% to 3.1 months, which also indicates a seller's market. A balanced market between buyers and sellers offers between six- and nine-months supply.
Nationally, total housing inventory at the end of January was 980,000 units, up 2.1% from December and 15.3% from one year ago (850,000). Unsold inventory sits at a 2.9-month supply at the current sales pace, unchanged from December but up from 1.6 months in January 2022.
Broward Real Estate Posts $174.6 Million Local Economic Impact in January 2023
Every time a home is sold it impacts the economy: income generated from real estate industries (commissions, fees and moving expenses), expenditures related to home purchase (furniture and remodeling expenses), multiplier of housing related expenditures (income earned as a result of a home sale is re-circulated into the economy) and new construction (additional home sales induce added home production).
The total economic impact of a typical Florida home sale is $112,500, according to NAR. Broward County sold 1,552 homes in January 2023 and had a local economic impact of $174.6 million.
Broward total dollar volume totaled $840 million in January 2023. Single-family home dollar volume decreased 39.9% year-over-year, from $841 million to $505.3 million. Condo dollar volume decreased 27.3% year-over-year, from $459.8 million to $334million.
Broward Distressed Sales Remain Low, Reflecting Healthy Market
Only 1.4% of all closed residential sales in Broward were distressed last month, including REO (bank-owned properties) and short sales, compared to 1.1% in January 2022.
Short sales and REOs accounted for 0.3% and 1% year-over-year, respectively, of total Broward sales in January 2023.
Broward's percentage of distressed sales are on par with the national figure. Nationally, distressed sales represented approximately 1% of sales in January, identical to one year ago.
Nearly 40% of all Florida Condo Sales Happened in South Florida in January 2023
South Florida (Miami, Broward, Palm Beach) registered 39.1% of all condo sales in Florida in January 2023. For all properties, South Florida had 28.4% of all sales in Florida.
In Florida, closed sales of single-family homes statewide totaled 14,766 in January 2023, down 32.5% year-over-year, while existing condo-townhouse sales totaled 6,078, down 40.7%. Closed sales may occur from 30- to 90-plus days after sales contracts are written.
Nationally, total existing-home sales transactions slid 0.7% from December 2022 to a seasonally adjusted annual rate of 4.00 million in January. Year-over-year, sales retreated 36.9% (down from 6.34 million in January 2022).
The statewide median sales price for single-family existing homes was $389,990, up 4% from the previous year, according to data from Florida Realtors Research Department in partnership with local Realtor boards/associations. Last month's statewide median price for condo-townhouse units was $310,000, up 8.8% over the year-ago figure. The median is the midpoint; half the homes sold for more, half for less.
Nationally, the median existing-home price for all housing types in January was $359,000, an increase of 1.3% from January 2022 ($354,300), as prices climbed in three out of four U.S. regions while falling in the West. This marks 131 consecutive months of year-over-year increases, the longest-running streak on record.
Broward Real Estate Attracting Near List Price
The median percent of original list price received for single-family homes was 94.8% in January 2023, down from 100% last year. The median percent of original list price received for existing condominiums was 96.1%, down from 98.1% last year.
The median number of days between listing and contract dates for Broward single-family home sales was 35 days, up from 19 days last year. The median time to sale for single-family homes was 77 days, a 16.7% increase from 66 days last year.
The median number of days between the listing date and contract date for condos was 40 days, up 122.2% from 18 days. The median number of days to sale for condos was 76 days, a 24.6% increase from 61 days.
Broward Cash Sales More than National Figure
Cash sales represented 44.1% of Broward closed sales in January 2023, compared to 41.1% in January 2022. About 29% of U.S. home sales are made in cash, according to the latest NAR statistics.
Cash buyers are not deterred by rising rates. The high percentage of cash buyers reflects South Florida's top position as the preeminent American real estate market for foreign buyers, who tend to purchase with all cash as well as some moving from more expensive U.S. markets who can buy more with their profits from real estate sales.
Cash sales accounted for 57.8% of all Broward existing condo sales and 26.4% of single-family transactions.
To access January 2023 Broward Statistical Reports, visit http://www.SFMarketIntel.com