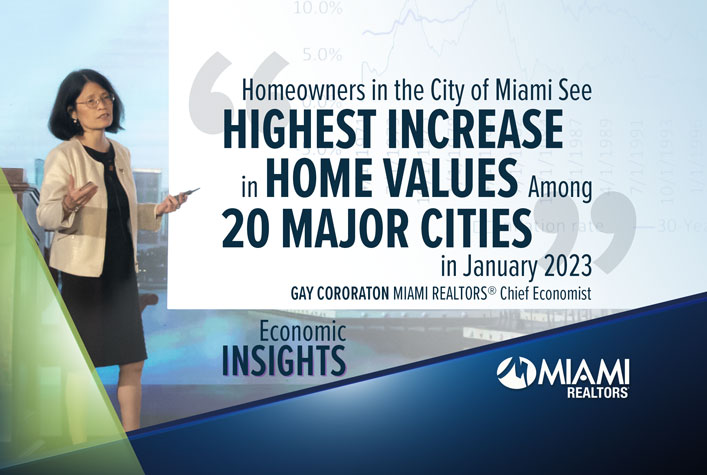 Homeowners in the City of Miami See Highest Increase in Home Values Among 20 Major Cities in January 2023
By Gay Cororaton, Chief Economist, MIAMI Realtors®
Homeowners continue to see the strongest increase in their home values in the city of Miami among 20 major cities tracked by the Case Shiller home price index.[1] Based on single-family homes sold during November 2022-January 2023, prices were up 13.9% on average from one year ago in the city of Miami, compared to 3.8% nationally.
The sustained price gains in Miami contrasts with the price declines in San Francisco (-7.6%), Seattle (-5.1%), San Diego (-1.4%), and Portland (-0.5%) and the slower pace in New York (5.2%), Chicago (4.8%), Boston (4.2%), Washington DC (2.4%), and Los Angeles (0.9%). Tampa was the only other city with double-digit gain (10.5%).
Sure, the current pace is much slower than the 19.3% y/y gain last year, but the past two years were not normal years and the torrid price gains were not sustainable from an affordability perspective. The current pace in line with the pre-pandemic pace (4% in January 2020). The current pace is also lower than the average weekly wage growth of 9.7% in the Miami-Ft. Lauderdale-West Palm Beach metro area (as of 2022 Q3), which means home affordability conditions are improving.
On the other hand, homeowners still have significant home equity gains despite slower price growth and price declines in some areas. In the city of Miami, prices are up about 61% as of January 2023 compared to January 2020, three times the gains in the city of San Francisco. This means that homeowners will most likely make a gain on their home sale if they decide to sell their home today. (Please consult with a Realtor® when selling your home).
Prices have held up more strongly in South Florida compared to nationally because of its stronger economic and demographic fundamentals:
Jobs are growing faster in the Miami-Ft. Lauderdale-West Palm Beach metro area (3.4% in February) compared to nationally (2.9%), as of February 2023, with 94,300 more people employed in February 2023 compared to one year ago; about 60 companies expanded or relocated to Miami-Dade County in 2021-22, creating 8,000 new direct and indirect high-value jobs with average salary of $97,000, according to the Miami-Dade Beacon Council.
Florida continues to attract out-of-state movers, with the typical income among homebuyers with a mortgage of nearly $100,000. The largest group of movers are from New York, California, and New Jersey, based on driver license exchange data in 2022 reported by the Florida Department of Highway Safety and Motor Vehicles.
Miami-Ft. Lauderdale-West Palm Beach has a higher share of cash buyers (34.9%) who are less deterred by higher mortgage rates, compared to nationally (28%), as of February 2022.
Despite slower housing demand, housing conditions are still tight, with less than 6 month's supply in Miami-Dade (3.8), Broward (2.8), Palm Beach (3,3), Martin (3.3), and St. Lucie (3.0).
You can find all the information on what sets South Florida's real estate market apart on the MIAMI Realtors websitewhich has press releases and infographics you can use.